New York, NY (PRWEB) April 19, 2011
Original Article Appeared on PRWeb at: http://www.prweb.com/releases/b2b/infographic/prweb5258784.htm
Stephen Gamble, CEO and Founder of Frame Concepts, a B2B Technology Visual Explanation company and with over 20 years of marketing B2B technology solutions for large technology innovators like IBM and a host of innovative startups is excited that B2B Technology organizations are starting to deploy both engaging and explanatory communication solutions that are make dramatic improvements on their bottomline. With the deadly stakes of marketplace adoption at the go-to-market table, B2B technology companies are facing the challenge of leveraging technically complex innovation to be market leaders while not actually distancing themselves from the minds and pocketbooks of potential buyers. There is a new hybrid communication craft that has matured in the media world with publications likes New York Times and Fast Company that is now being adopted to solve the B2B Technology communication riddle. And the answer is – keep the market differentiation with innovation but enable market understanding and engagement with visual explanations informed by information design.
"We are very challenged to get our customers to visualize the point of what we offer." 
Kavita Sastry, Seriopus Group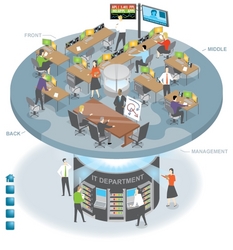 Sample of B2B Visual Explanation
Stephen Gamble
, a 20-year veteran of the B2B Technology communication industry including IBM and a host of innovative startups has formed a new offering, 
Frame Concepts
, that leverages the craft of information design and infographics and animation to enable audience understanding and engagement. He states,
"There is somewhat of an irony that as B2B technology offerings strive to have the killer application and service that will differentiate themselves from the rest of the pack, that they can go so far that their target audience is left behind. While leaving your competitors behind is ideal, technology businesses do not want to leave their customer behind when it comes to understanding and appreciating the value of their offering."
Kavita Sastry, a leader in change management for technology innovation and owner of Seriopus Group states, "Even after the customer has decided to move forward on your offering, there is still the challenge of making sure the actual users of the system appreciate all the change that is going to happen and the value they can leverage from the new complex system. And of course that challenge is even more profound, when the sales team has to introduce the concepts of the platform to a new audience. We are very challenged to get our customers to visualize the point of what we offer."
Technology companies are struggling how to distance one's self from the pack but not the marketplace's understanding and engagement at the same time. Whether its data masking technologies for cross-border privacy, open source network software or a mobile application that lets you share your derivative trading model with your trading team– technology innovators are challenged to be understood by those they most dearly want to bridge the conceptual gap with – their potential customers.
Peter Bulko, a Systems Architect and Executive Director at Nomura Securities is caught internally making sense of the complex IT systems developed internally in conjunction with third-party providers like Microsoft, Oracle, SAP and SAS to his end-user traders. He states, "There is a lot of research and development internally done before these complex trading and analytics platforms are delivered to the trading floor and its important that the users appreciate the point of the whole project in order for it to become a success. Powerpoint charts can only get you so far – there needs to be more communication at the visually intuitive level to get their attention, buy-in and adoption."
The good news is that there have been tremendous advances in the field of explanation. Specifically, the field of infographics and information design blended with the storytelling of animation are being deployed to great effect in the media field. News organizations present complex and dense amounts of data and trends in emerging technology issues; they are faced with making the complex intuitive to there millions of readers. And the discipline is mature – for the last decade, readers have appreciated stunning explanatory visuals on how, for example, the economy was undone by the complex path of mortgage-backed securities or demographic visuals on the makeup of social networks or wireless users.
If the media channel can get their readers onboard the understanding bus, why not the tech companies? Joseph Singh, a principal at Kittyhawk Consulting has led both complex business development and delivery engagements for the consulting arm of IBM Global Business Services and knows only too much how much work it can be to get customers, even your own employees onboard with complex banking back office systems and third party-applications and IBM's process driven delivery service. Joseph states, "My Masters of Operations Research degree at Columbia University prepared me to analyze and produce relevant strategies for optimal process recommendations but I quickly realized that was only half the battle. Without the end-user and the executive sponsors full understanding of the solution, the entire project delivery success was uncertain. Providing visual explanations with the end goal clearly mapped out ensured that everyone, including our own delivery team, is on the same page and have a full picture of the end goal at hand."
The craft of information design can now bring complex offerings back from a point of marketplace indifference and confusion, to one of understanding and engagement. And the new best of the breed information design offerings like Frame Concepts are not actually formed by designers but technology business veterans who have suffered the plight of advancing technology offerings only to be forced to choose between the traditional graphic design/copywriter interactive agency where there are no robust explanation offerings or a technical writing agency that offers no compelling engagement. The hard battle scars of enabling understanding of very complex offerings – whether it was IBM's Security and Privacy offerings or a startup's cloud computing solution – have wielded a host of visual solutions that are specifically aimed at making the complex intuitive for all of a B2B enterprise audience. An audience that certainly includes the marketplace but also current customers requiring support, partners, analysts and even employees and management.
And while its early days for B2B Technology firms to deploy this new craft – it appears clever adoption of innovation in information design may mean that these firms do not have to throw out the bath with the bath water. Firms can and should continue to distance themselves by designing new offerings that deliver value and differentiate themselves from the pack – the only difference is that they should complement innovation with visual, intuitive explanatory communications so their intended marketplace is along for the ride.
(About Frame Concepts offers B2B Technology companies visual solutions to enable marketplace understanding. By unpacking enterprise's dense and technical offerings and rendering them into compelling and intuitive visual communications, the Frame suite of visual solutions helps its clients realize significant business goals across all of its key business functions, include sales, marketing, social networks, training, customer support, research and internal employee communications. To learn more, go to Frame Concepts.)
New York, NY (PRWEB) April 19, 2011