Some Background on Pencil Sketching and B2B Tech
As a marketing leader working for some of the largest tech and consulting companies and a host of innovative startups here in New York, I personally struggled to get the point of our solution offering to the marketplace. Everyone on our team was jazzed by the innovation and its relevance to solving pressing business problems. We all thought the solution was "cool". It's why we came on board. But time and time again, we could not get the same reaction from the marketplace. And the problem was not the relevance of the innovative solution. The problem lay in how we were communicating it.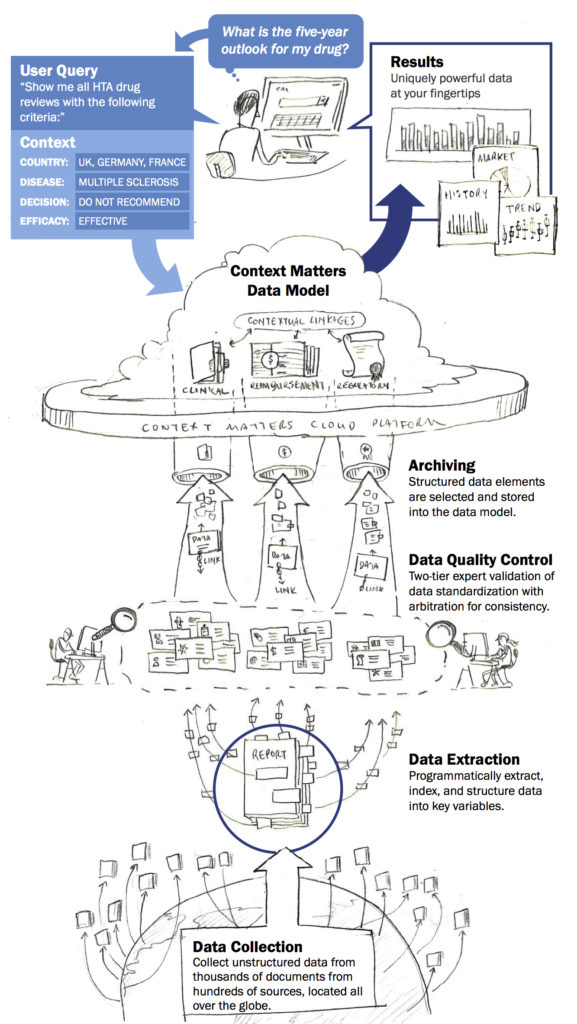 An Early Ideation Sketch Sample
Pencil Sketching Accidentally Disrupted our Go-to-Market Processes
When I was working at a Beta-Stage EBPP (Electronic Bill Presentment and Payment) startup we also struggled to get beta clients to understand the point of our new innovative web-based approach for B2B back office financial settlement. But an accidental introduction at a lunch with a sketch artist from Time Magazine who very calmly and deftly sketched out the process and the point of our approach on a single page of paper turned out to be a transformative moment. All of us embraced the sketch as the key to understanding our solution and we quickly scanned the sketch and placed it in our beta sales deck.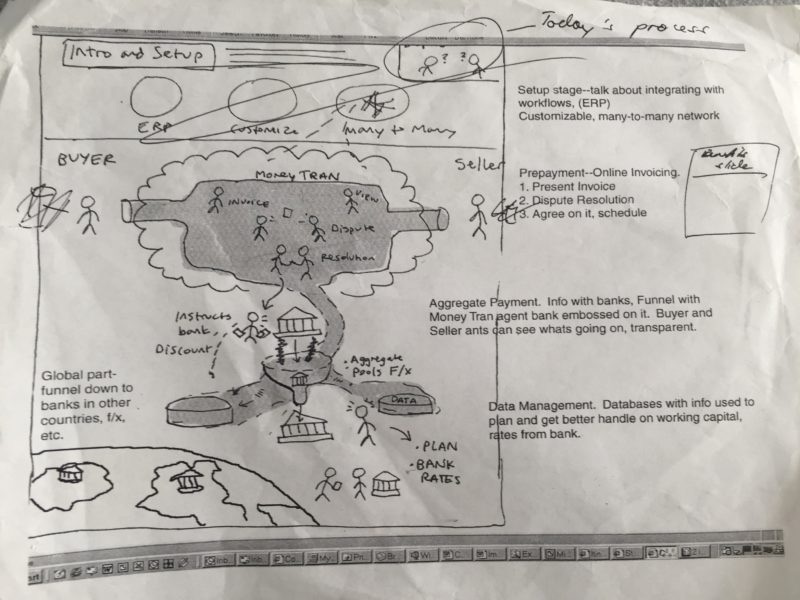 The Pre-Frame Concepts Sketch That Got Things Started
Visuals Engage
Immediately our beta prospects when presented with the sketch got the point and quickly went to dialogue mode, gesturing at the sketch with questions about dispute resolution and cross-border currency translation, and privacy concerns with the reporting tool. And the dialogue quickly went to beta-testing. Quite an impressive feat for a single page pencil sketch.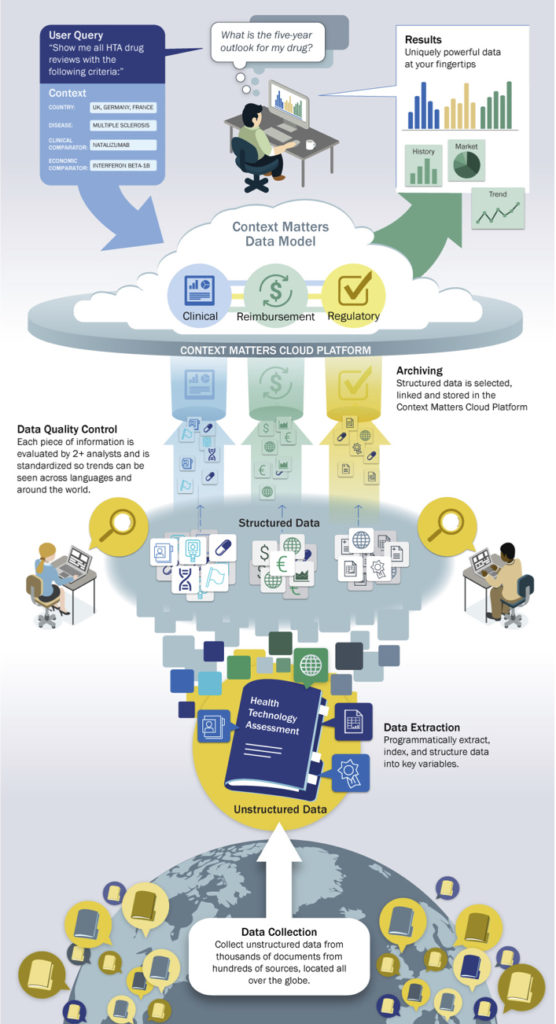 A Rendered On-Brand Version of Sketch at Top of Page
Lessons Learned
Frame Concepts was formed in 2010 shortly after that transformative sketching event and we have broadened from a pure sales-enablement tool to touch every path of the B2B buyer journey. Here are five applications of the pencil sketch process that stand out when I reflect over the last 10 years of in-the-trenches visual sketching for some of the largest B2B Tech and Consulting firms and most innovative startups:
Product Ideation – the ideation sketching process is incredibly powerful in forming the best version of the solution at the outset. A whiteboard with a talented information designer and a healthy dialogue between management, product, sales and marketing, and operational teams delivers exceptional results.
Go-to-Market Strategy – there are a lot of moving pieces to an effective go-to-market process especially dealing with complex and nuanced innovation. Taking a step back and sketching out that process galvanizes the go-to-market approach and gets everyone firing on all cylinders.
Thought Leadership (Content Marketing) – here you are re-working the audience's preconceptions of standard approaches to solving a problem and giving them a new vision (literally) of the ideal approach. You have to visually change their conceptual framework.
Product Marketing – if ideation sketching is applied to the product development process then it should be an easy lift to turn the core sketches into digital and print product marketing explanatory pieces. Quite often in our experience, this is not the case and we have to start with a blank page and pencil sketch ideation workshop to get there.
Sales Enablement – I have been on the front line with a C-level prospect after several months of trying to arrange the critical first meeting only to be told that they do not understand the point of our offering. The good news is that all the pencil sketching to arrive at the solution and the marketing tools are equally applicable to the sales experience. In fact its even easier to storyboard the process and the point across several PowerPoint pages to ensure there is ample room for the audience to engage with questions as they start to view your solution within the context of their own environment.
Getting Started
The fact that pencil ideation sketching can be leveraged across the entire B2B go-to-market path is inspiring but also daunting at the same time. Especially if you have never dabbled in pencil sketching. The good news is that you can practically start anywhere. Typically when asked by a new client where we should start, I answer with a question – What content are you working on now? And I am not being flippant or evasive, but recognize that embracing pencil sketching across your client touch points (and your internal team audiences) will organically spread across relevant content programs. Success with a pencil-sketch-generated slide deck will naturally be retrofitted for outbound marketing content programs. High traffic and conversion on say a new infographic will be leveraged as a conversation piece for SDR's (Sales Development Representatives) and sales engagement. An interactive decision tool on the website can be ported over as a kiosk for a trade show. The important thing is to get started. All it takes is a blank page and a talented B2B-experienced information designer.
Lets Talk
If you would like learn more how to get started leveraging pencil-ideation sketching and see more live samples within your industry, reach out to us here – Learn More About Leveraging Pencil Sketches