Thumbnail Sketch
Visually Engaging Consulting Audience with Visuals
We work a lot with consulting companies. Together with tech companies – they both make up a core part of our client base. And it makes sense. Their solutions and approaches are subtle, nuanced and well … technical.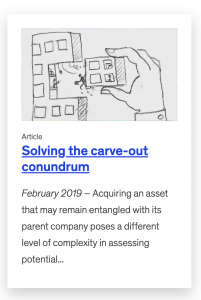 Visual Teaser Preview
Thought Leadership Needs Visual Love Too
While the bulk of our work is visually explaining these unique offerings and approaches to the clients and the marketplace in general in the form of presentations, brochures, interactive web solution demo's, explainer videos for social and signage and kiosks for trade shows – convincing research analysts to embrace custom visuals is not straightforward. A quick glance at most dense white papers aside from the odd chart can simply be text on white paper with a company logo. Yet the challenges to engage audiences and explain the key points and bring them to a point of consideration is challenging.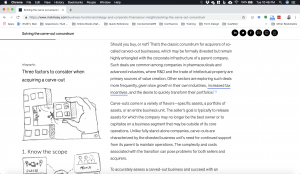 Visual Carveout on Left Column of Article
Ways to Visually Engage with Thought Leadership
So when a new consulting agency talked to us about how to integrate visuals to a more conservative research publication format we did as we always do – we ideated with pencil sketches. And so I have included a few of these ideation samples – you can see by the labels below them that they include an initial thumbnail sketch to get the basic idea of the research article. And they we suggested how we could carve out important aspects of that sketch as a teaser preview to click into the article and also on the left banner to demarcate and introduce it within the list of the rest of the research articles. And then finally we suggested a full infographic that takes in labels and body text from the article but still leaving most of the visual real estate for the visual. This piece could be a promotion to cause them to download the full paper and also a debriefing piece for the analyst when face-to-face with client.

Full Visual with Text
Shall We Visually Engage?
So a call-to-action for all content challenged consulting and tech companies who care about explaining and engaging to their sophisticated audience – even at the research level – to consider pencil and paper and ideation sketching to engage with their audience.