Excited and Disappointed at the Same Time – Just Came Back from a Visual Content Summit
Was excited about an event yesterday – not going to mention the actual event – as I am being candid about my thoughts on it. It was interesting for me in that the whole point was on they "why" and the "how" of leveraging visual content into your marketing strategy – mostly social channels. I couldn't think of better poster child for us here at Frame Concepts. Here at Frame Concepts we offer visual solutions – infographics, interactive solution pictograms, animations and data-driven visualizations – to help with the understanding and engagement factor. And it was nice to see that the premise of the event and the over 100 professionals attending and speaking at the event recognized the importance of the visual in content marketing. But then I listened to the presentations.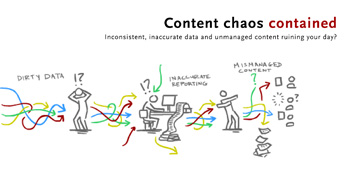 Visuals can Talk to B2B Processes
Assumption that Visuals are Exclusively for B2C
Well their was the stock research repeated from separate presenters about the effectiveness of visuals in terms of understanding, retention and sharing – normal stuff. But then when they actually presented their approach to using visuals it became clear their mentality was just an extension of visual merchandising already rampant in their consumer product world. We took this photo of a yogurt bowl and put it on instagram and we told this hotel customer service story of returning a child's lost stuffed toy on youtube and we put these inspirational bracelets on twitter and facebook. So the argument or question basically was – given you have a consumer product that can be photographed or filmed in different circumstances showing value or utility and certain social sites like pinterest and youtube and others feature images – you should think about getting your social audience to feature and converse about them. I get that. But the audience wanted something more and so did I.
Where's the Explanatory Meat for B2B?
The event was in New York – and the questions from the audience on the microphone surfaced or the rather the elephant in the room surfaced. We offers services – financial services, insurance, consulting, software integration – how do you visuals to bring relevant decision makers into the conversation? The answers were shocking. I paraphrase – "Its kind of hard to do – but think hard about your offering and what it represents on an emotional level and come up with a photo that represents that." It was kind of cute. The speakers or experts could not get out of their consumer visual merchandising framework and think that a complex decision maker like a chief risk officer is not embracing a risk management solution like a consumer is seeing how tasty that bowl of yogurt looks. I know I am guilty of over explaining the distinction between B2B and B2C here – but I am just the journalist here sitting at the event. The ironic thing here is that visuals are not out of place for a complex B2B offering (that's all we do here at Frame Concepts) but the visuals have a different strategy and approach and design.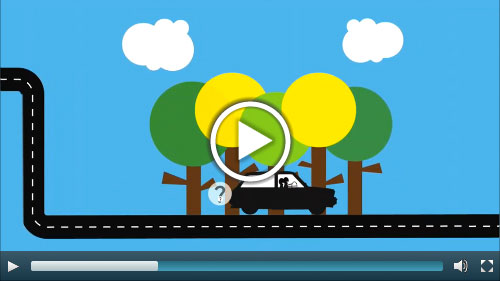 Complex Topics Like Server Virtualization can Be Tackled with an Animated Infographic
But Then the B2B Presenter Took the Stage
Well I started to get comfortable in my seat as a very capable presenter in a highly innovative Fortune 500 B2B play came on the stage (We here at Frame Concepts are doing work with a division of this company.) But then out came a very stylized photograph of a jet turbine blade. And this was placed on social channels. The goal was to make the consumer feel warm and fuzzy about the innovative things going with the goal that they might one day want to work or invest with that company. As an ex-mechanical engineering technologist but more importantly, what we do for complex offerings like energy and transportation offerings in terms of bringing that relevant decision maker for the jet turbine engine into the decision making stage of the sales funnel, I just felt again the audience was being underserved. Visual explanations can translate directly to the bottom line and hit the sales funnel and can help rectify stalled marketing and sales cycles because the relevant decision maker on a grand scale is simply "not getting it".
In Conclusion – Any Cup Half Full Here?
Well sad to see the "experts" taking the low road to thinking that visuals amount to "feel good" branding candy for new hot visual social sites – I do take this as a call to action to help correct this misconception. Well fortunately I get to this is practice everyday here at Frame but perhaps in the very near future – a Frame Concepts Summit coming near you – Using Visuals to Engage Your Decision Maker to Move the Bottom line Now! Kind of punchy isn't it. Well maybe a webinar or an eBook- we will see.
If you would like a live demo and free consultation on how to leverage visuals for engagement with your decision maker – click here – Free Demo and Consultation.