Introduction
Innovation Needs to be Understood First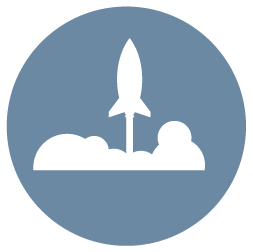 Startups have a number of challenges with marketplace engagement and understanding. The innovation typical of a new startup is actually a challenge itself as the marketplace has preconceived ideas of how one actually can resolve the issues your innovation is designed to solve. So they place you in the wrong traditional category and assume there is no need for your offering. You have no track record by definition and you can end up spinning wheels – meaning time, money, resources, time to market concerns – while the marketplaces brushes by you with no understanding about what you do or worse – indifference. The Frame Concepts Visual Solutions were designed to pierce your marketplace misconceptions about your space and in particular raise awareness of your offering and drive them to a point of understanding and engagement. We bring them into your conceptual framework so they engage.
Business Purpose
Time is Not Your Friend
With multiple rounds of investment, time to market concerns and complete lack of brand awareness the stakes could not be higher. If you have put some much sweat labor, time, investment and you truly have differentiated value for your marketplace, does it make sense to hold off on letting your potential clients not visualize what you actually offer? There are a lot of reasons startups turn to Frame Concepts:
Innovation is Innovative – You need to translate your innovation into terms that your client will buy off on.
Its Noisy Out There – You are not the only option and you have little to no awareness in your marketplace – you need to stand out.
Attention Deficit Disorder is not Your Friend – Your audience is frankly tired of the next "latest thing" and you only get seconds for them to get you when that precious communication moment arrives.
Time is Not Your Friend  – you can beat others coming to market by making sure the marketplace understand and engages with your offering first.
Get Them Excited – While you may be thrilled with your hard-won innovation, your potential clients may not be onboard unless they share your same vision.
Showcase
Traditionally large construction projects – like aircraft hangars, warehouses, nuclear submarines – involve a lot of retrofitting in the field. And with static drafting documents the stakeholders – construction managers, business owners, facilities management, field technicians and architects – can be left out of the loop. With the CTBIM offering transparency on the actual build and parts inventory is provided real-time as shown in this innovative before and after interactive pictogram created in html5 and javascript so it could play on IOS devices like the iPad.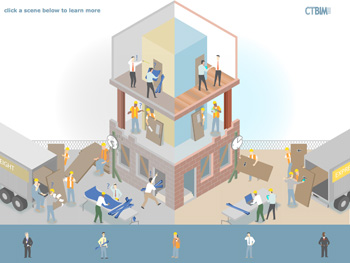 While this infographic let numbers tell the visual story, because the startup software platform was designed to make meetings more efficient, the infographic was designed in an actual traditional meeting room to makes it case. Note as opposed to a pictogram which is an explicit visual explanation of the value of the offering, with the infographic, there is a subtle suggestion that the audience needs to rethink how it runs meetings and learn how YamLabs can actually solve the problem.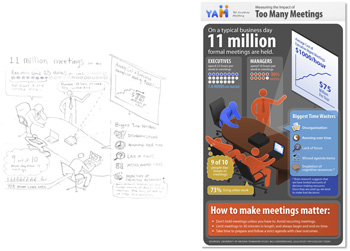 ArnoldPark came up with a clever idea to introduce the latest digital film projector technology in the independent film market and make investors integrated to fund and see return in this provocative alternative investment class. This infographic is actually a blend of infographic showing the numbers side of the business and borrows from the pictogram visual solution by showing how the parts fit together to deliver value to each stakeholder.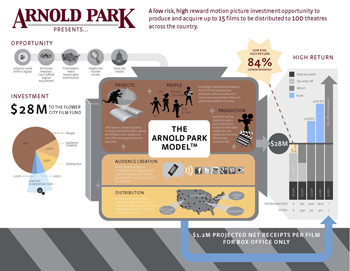 More Examples
To see more samples of the Frame Concepts Social Media and Visual Solutions as well as other visual solutions, click here to view a sortable portfolio.

Ready for Your Business To Visually Engage?