Introduction
How do You Meet Your Numbers without Engagement?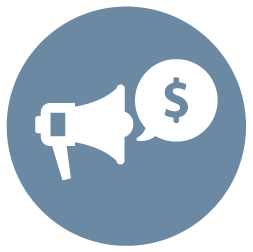 How do you get your marketplace to visualize what you do? Crazy thought – how about leveraging visual solutions for visualization? By leveraging the craft of information design we not only enable your prospects (and even your current clients) to not only get the point of your offering but the differentiated value. Whether its viewing your sales presentation or the leave-behind brochure or reviewing your solution offering in the solution section of your website, your audience has limited attention span and needs to get to the point quickly or move on to the next thought of the day. The Frame Concepts Sales and Marketing Visual Solutions get them to differentiated value proposition quickly so they are ready to engage.
Business Purpose
Understanding + Conversion =  Revenue
How many leads can you generate and deals can you close if your audience does not get you? Our clients use our visual solutions to hit their financial targets in a variety of ways:
Sales Conversion – As business development professionals, we all have that "killer slide" even with a clunky powerpoint graphic that you could talk to over the executive round table that helped your client get the point right? Well imagine a custom illustrated presentation and print materials with cutting edge information design that visually does the explaining so you can focus on your client's needs and not do education 101 for that precious sales hour that took three months to book.
Drive Leads to Consideration – Have your direct marketing efforts run dry and that fall sales promotion sound like, well a fall sales promotion? How about you engage your client with a solution pictogram on the value they are actually missing by not engaging with your offering and putting a smile on their face when they realize that through the visual they get it.
Awareness and Engagement – With a provocative infographic content series and interactive solution pictograms on your website you have a killer two-edge sword as you drive the marketplace to appreciate your unique point of view and that you have a unique differentiated solution when they are driven to your website.
Audience Data Deluge – While you know that you have differentiate value, the reality is that your marketplace suffers from information overload, the right visual solution can jolt your prospect to a frame of reference that makes them appreciate the value of your solution quickly.
The Elevator Pitch on Animated Infographic Steroids – Used at the start of a presentation or tradeshow display or on your home page of your website, you can in 60-90 seconds get your audience to that ah-hah point so you have an enlightened audience when you go to sell to them.
Showcase
The Reputation Institute can provide data-fed intelligence on social channel content impact not only on reputation but how it ties to your bottom-line if remedial action is not taken. We created a clever tabbed visual invite to the workshop to underscore the importance of attending and then came up with a clever client slide presentation that through data visualization drove the point home on their recommendations.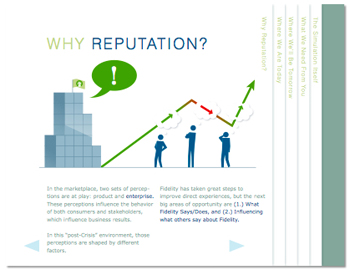 A clever idea to tie employee's social networks to the referral programs of the HR department needed some visual explanatory support. SelectMinds contracted Frame Concepts to take their audience through the steps of their unique offering with a stage sales presentation. And the marketing department was also concerned that the visuals were sophisticated and showed a keen sense of modern design. Though a unique blend of modern colors and typography and limited the illustration palette to only iconic designs, a fresh and persuasive infographic sales deck was created.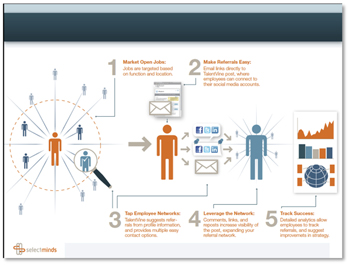 Imagine software was very excited about an upcoming release where their risk clients now could download and develop applications and extensions with only a business user's knowledge much like the consumer could download an application on their iPhone or iPad. To visually seize on that excitement, Frame Concepts came up with an innovative product brochure that leverages the Smartphone app space metaphor to drive the point home.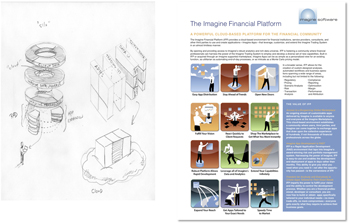 More Examples
To see more samples of the Frame Concepts Social Media and Visual Solutions as well as other visual solutions, click here to view a sortable portfolio.

Ready for Your Business To Visually Engage?