Introduction
The Energy Industry has Its Own Innovation Communication Challenges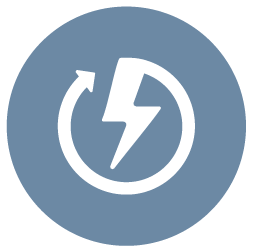 While traditionally the Energy Industry is seen as a commodity industry as opposed to the innovation paradigm that pervades the Technology and Startup industries – this is actually far from the case. With environmental concerns and a finite supply of fossil fuels and general concerns about sustainability, the Energy Industry has become the hallmark of innovation. And with innovation comes communication challenges. And of course this innovation has also to be translated in terms of delivered value which involves data-based research and technical features of the energy type being utilized. This is where the Frame's Energy Industry Visual Solutions can help.
Business Purpose
Shake Up Stodgy Energy "Commodity" with Dynamic Visualizations
The Energy Industry, in delivering more effective approaches to energy solutions, must sure their marketplace understands and engages:
Explaining Your Approach – A process pictogram can enable your audience to appreciate your process.
Energy is Metrics-Driven – Data visualizations can make the complex intuitive.
Energy has its own Vocabulary – Technical concepts need to by understood by your business buyer.
Competitive Landscape – Sometimes the technical benefits of a particular energy source can be subtle – you need subtlety to stand out.
Customer Communications – Ensure your customer appreciates the benefits of your service with something as simple as an intuitive form on a bill statement or offer a dynamic-data driven visualization to your business client.
Showcase Your Innovation – Shake up stodgy energy connotations with a dynamic visualization of your innovative offerings.
Showcase
While construction of new nuclear reactors is slowed down, the management and supply of spare parts of legacy reactors is a fertile business. To enable its clients to quickly see what parts need to be ordered on a timely basis, Frame Concepts created a dynamic data-fed visualization of quantity and obsolescence status of spare parts. Instead of pouring through reams and reams of spreadsheets, red pulsating spots dynamically displayed where their clients need to focus their attention.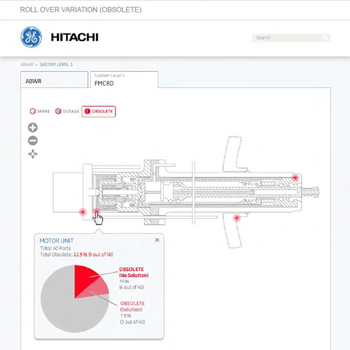 Enlighted, a California-based green energy startup, developed technology and a approach that delivered the most energy savings with the largest energy category for large office buildings – lighting. This infographic shows both how the sensors coupled to computing programs delivered the solution, while a colorful dynamic visualization showcased the actual savings.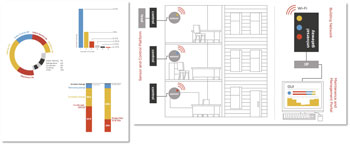 Frame has already provided the prototype for the dynamic visualization of spare parts status within the nuclear reactor, now the project turned to the control room that controlled the reactor. Because the electronics sat in racks on an angle to the controller staff, a visual decision was made to simulate the 3D aspect of the control room in the dynamic data visualization. The net effect was to make the entire application more engaging and intuitive.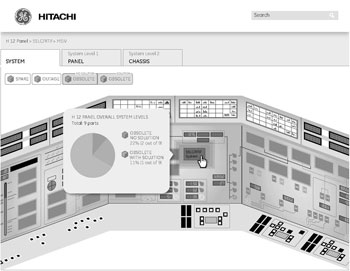 More Examples
To see more samples of the Frame Concepts Social Media and Visual Solutions as well as other visual solutions, click here to view a sortable portfolio.

Ready for Your Business To Visually Engage?