Quickly Communicate How Your Solution Works
It can be challenging to enable your prospects to visualize the point or value of your offering let alone how it basically works. Couple this with rampant attention deficit disorder in the digital world and you have a recipe for client indifference despite the amount of differentiated value in your offering(s).
That's where the Frame Solution Pictograms come in. These visual conversion tools enable your audience to quickly come to terms with how your solution works while driving home the differentiated value each audience type receives. The goal is understanding AND engagement.
Business Purpose
Increase Conversion
Unlike our infographic content programs which drive awareness and traffic flow typically based on time-dependent data, the interactive solution pictograms like the static pictograms are created to drive conversion specifically about your offering and our clients typically want to drive the following business goals:
Conversion – enable your audience to quickly come to terms with your offering and fill out your contact form, call the toll-free number, try the free demonstration, whatever your call-to-action may be.
Complex Content Simplification – Enable your audience to both understand and engage with your complex by leveraging analogy and intuitive visuals.
Address Your Audiences Concerns – the pictograms can literally place your prospect types and stake holders in situation visually showing them the differentiated value they will receive.
Decrease the Abandonment and Indifference Factor – While our clients have done their homework and invested in a solution that may be proven to be the "best" solution, the reality is that your desired audience can place you in the wrong conceptual bucket or even worse, simply be indifferent. The Frame pictogram visually shakes them into engagement.
Adds Substance to your offering and point of view – The very fact that you have taken the time to develop a visual story to drive that ah-hah moment in a very sophisticated visual presentation suggests the importance of the topic and your attention-challenged audience appreciates that you value their time.
Showcase
Click on titles to expand section
IPC had built a telecommunications platform specifically around the needs of trading houses on a global scale. They wanted to make sure that they were not confused with some of the global telecommunication brands that offered the same generic service for retail, travel and consumer goods as they did for financial institutions. IPC knew their trading audience had very nuanced needs around the trading day and would appreciate the value they built into their telecommunication services. To drive this point home, Frame Concepts created a visual to show how different aspects of the offering integrated with the trading lifecycle. And to separate it even further, Frame Concepts went with an line art type style that stood out from the usual suspects in this space.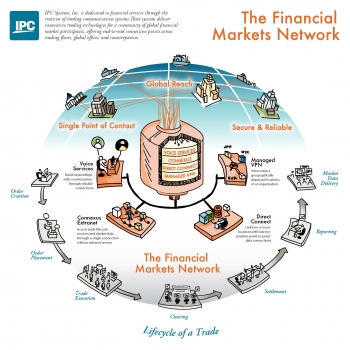 Frame Concepts had developed a series of visual solutions including an animation and interactive pictograms for one of their core offerings – TruView – and off of these visuals solutions wanted to showcase some of the industry-specific value they had been delivering in the form of a case study with a provocative large visual to grab the eye. In the following sample, the shipping industry was a focus and with the explanatory visual guiding the way, Visual Networks made the case that their networking troubleshooting solution was able to perform root cause problem sourcing regardless of the shipping network issue.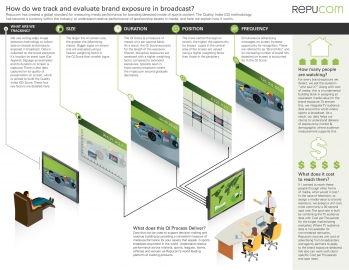 Repucom has an amazing platform that track every ounce of exposure a brand's investment in sports advertising it makes. How it exactly does this without manually sifting through a mountain of sports broadcasts to literally see where the brand exposure occurred on the screen and for how long is not that straightforward. Frame Concepts built a cutaway of the process and technology steps that goes into the solution starting with the television viewer on the couch.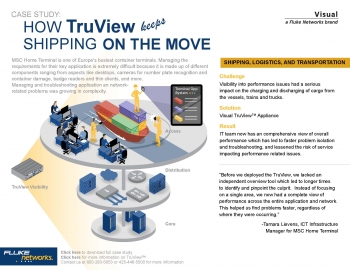 Let's talk about your next big idea. Tell your story with visual solutions.

View our extensive body of work.